Installing Tribes Ascend
Installation
Step 1 - Install via Steam
Or
Download Tribes Ascend Parting Gifts
Step 2 - Download the Tribes Launcher
Note
Make sure to extract this before running! Download Tribes Launcher Sharp Install Microsoft Visual C++ x86 Redistributes
Step 3
Extract and Launch the Tribes Launcher.
In the Tribes Launcher, select the Community for your login server, hit Login and inject TAMods.
Once injected, the Play Now button will show whether you are in OOTB or GOTY mode. There is a button on the main menu to switch. You need to be in GOTY mode to play on GOTY servers and OOTB mode to play on OOTB servers.
Info
TAMods has a website to help guide people
here
.
Playing Community Maps
You can only play community maps on the community login server.
Note: This may take a while as some of the assets required add up to a few gigabytes.
Step 1
Run the Tribes Launcher and click on the Packages tab.
Step 2
Select the map pack you want and hit install. This will automatically download all the required files so you can play.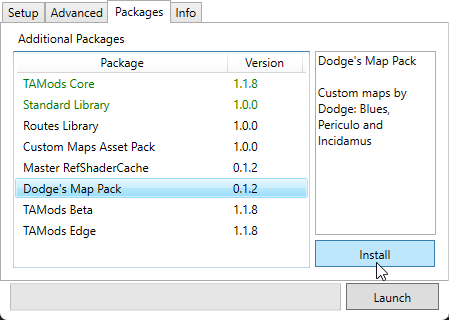 Linux Installation
Linux Guide
Troubleshooting
Launcher doesn't know where Tribes is installed?
Usually it's "C:\Program Files (x86)\Steam\SteamApps\Common\Tribes\Binaries\Win32\TribesAscend.exe". If you aren't sure and installed the game via Steam, follow this video to get the correct directory.
I hear the inject sound, but nothing about my game changes
Microsoft Visual C++ redistributes must be installed, an easy all in one installer is here
I keep failing to join a server
Probably in the wrong game mode for that server, community servers are labelled OOTB or GOTY to show their game mode. Go back to the main menu and select Switch to OOTB or Switch to GOTY like this video.
Can't join a server with a community made map
To play on a server hosting a community made map you only need the latest version of the map. In the server browsers current state, community made maps come up as Arx Novena.
Follow this section of the guide to install common community maps here first. Then try reinstalling TAMods and the packages.
On occasion you will have to contact the owner for the files.
I get a Package Install Error while installing the map packs
We've ran into a few issues with peoples files being set to read only. You need to go to where Tribes Ascend is installed and locate the file in the error message. Right click and select Properties and de-select Read Only then close the launcher and try to install it again. This will be fixed by the next launcher update.
I get an error when I start the game after installing packages
This should only occur when you have manually installed the maps previously. This fix will require some redownloading.
Step 1
In your Tribes Ascend install folder, go to \TribesGame\CookedPC\Maps\ and delete all files.
Not sure where Tribes is installed?
Step 2
Now, in Steam, you will need to verify your files.
In your games library you need to right click on Tribes Ascend and hit Properties.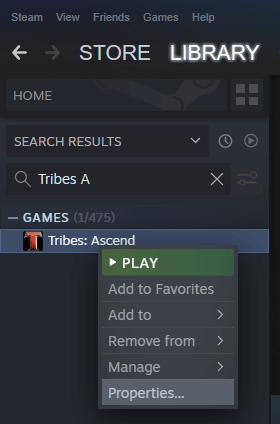 Select the Local files tab and click the Verify integrity of game files... button. This will re-download the missing files you just deleted from the base game via steam.

Step 3
Once complete, in your Tribes Launcher hit the Advanced tab and hit Reinstall TAMods. Hit Yes on the prompt and then hit Update to start the process.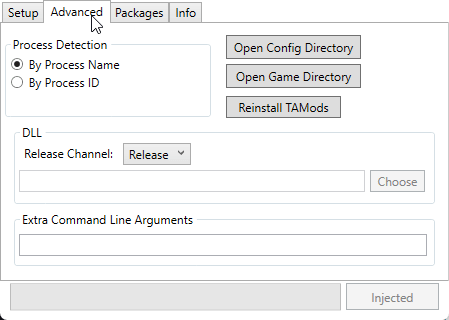 Now, under the Packages Tab you can install the custom packages that were removed earlier. This should just be the custom maps and assets packages.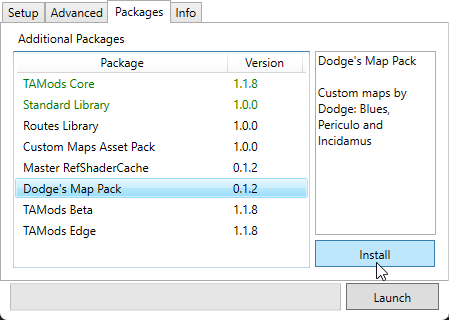 I'm having issues not stated here with the launcher
When in doubt, under the Advanced tab hit Reinstall TAMods. This should allow you to reinstall packages as well.